You have spent an entire career developing your expertise, but how much have you invested in perfecting your resume?
Many people will never get an interview call, not for lack of experience, but because they are unskilled at communicating their value.
The Working Resume will help you build a resume that demonstrates your value — and then teaches you how you can use it to get your next job.
Many people already have a resume, but it is the same one they have been updating since graduation.
Not only is this not appropriate, but the state-of-the-art in resumes has advanced significantly, even over the last 3-4 years. One simple example: Does your resume use appropriate "keywords" that automated resume selection programs look for? (Most don't.)
The goal is not to just build a resume — the goal is to build a resume that helps you get a great job. If someone else wrote your resume, they may miss your special skills or exaggerate your strengths. It makes sense: nobody knows you better than… you. Recruiters can tell if a resume was written by someone else, and this can disqualify you from further consideration.
Over the last 20 years we have reviewed thousands of resumes, and interviewed hundreds of recruiters and hiring managers. The Working Resume distills our knowledge for you and walks you through the process, step by step.  Writing an excellent resume is something that everyone is able to do.
The Working Resume
Available in a 38-page downloadable book format, or in an e-course that is mailed to you weekly for six weeks.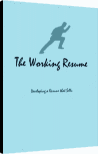 Lesson 1: Resume Goals and Objectives
Lesson 2: Content Collection
Lesson 3: Compilation
Lesson 4: Formatting
Lesson 5: Customization and Finesse
BONUS Lesson 6: Mini-bio, Elevator Pitch, and Strategies
CDN $118.99
eCourse:
eBook: