[Buy Now] [Add to Cart]
101 ways to grow your business without wasting your time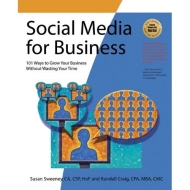 This book provides specific strategies and tactics that focus on building business.  In addition to marketing and PR, it addresses recruiting, risk management, cost, ROI, and other key business issues. Managers will learn how to save time and develop a weekly checklist of social-media priorities, attract the right job candidates, and help improve customer satisfaction and brand loyalty.  Little known fact:  this book actually provides 157 ways to grow your business, not 101.
195 pages, 7.5″ x 9.25″ paperback
By Randall Craig and Susan Sweeney
NEW:  4th Edition:  Completely revised and updated.
Develop your reputation, get found, and attract a following.
You probably have a web site, blog, and maybe even a LinkedIn profile.  But is all of this giving you exposure?  Are you being called by media?  And how are you doing in your search engine rankings? Social Media is either a complete waste of time… .or the most important plank of a PR strategy.
This ebook is designed specifically for experts seeking to showcase their real-world reputation online. It describes a specific strategy, then provides step-by-step instructions to implement it. More at www.onlineprsocialmedia.com.
143 pages, 8.5″ X 11″ (4th Edition: Nov 2009)
Expert Bundle CDN $55.56
[Buy Now] [Add to Cart]